At Family Life Assembly, children are important to us! It is our desire to provide the best possible learning activities and worship experience for your child. We believe that these experiences will bring to your child a greater knowledge of Jesus, and a desire to know Him better. We are partners with you in your child's spiritual development. Let us know if there is anything we can do to help you or your child on this spiritual journey.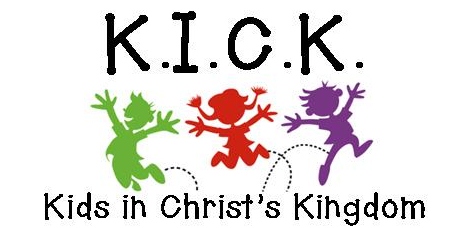 KICK is for 1st to 6th grade students. They will learn that Jesus loves them! Using stories, drama, games, puppets, songs and object lessons, we present Bible lessons to kids in a way that involves them in the learning process, and takes them on an exciting journey to know and serve God. KICK meets at 10:30 am on Sundays in the Fireside room.
Kid's Sunday School
Every Sunday morning at 9:15 am children enjoy a fun-filled hour of Bible stories and teaching on their level. Sunday school is for children grades 1-6. The class is interactive and provides great discipleship for children.
Junior Bible Quiz is for grade school students and meets as a Sunday School class at 9:15 am. JBQ offers a fun, exciting way to motivate children to understand the all important truths of God's Word. Through cooperative learning, children work together to learn and understand the questions and answers from the Bible Fact Pak. Then the children meet with teams from around the state for fun quizzing matches.
For our girls who are kindergarten – 6th grade, you will find them on Wednesday nights at 6:30 pm building a foundation that will enable them to serve Jesus Christ with all their hearts. The girls learn through stories, games, activities, and Bible memorization, what it means to make Jesus the Lord of their lives and how to grow in Christ-like character.
For our boys kindergarten through 6th grade, on Wednesday nights at 6:30 pm, you will find them learning Bible stories, memory verses, hiking and camping skills that will cause them to grow and mature in the things of God.